Monthly Membership Meeting
Monday, August 7th 7:30pm (Doors open at 7:15pm)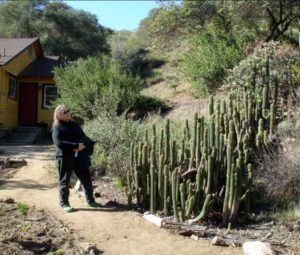 Container Gardening with Natives  
Lili Singer from the Theodore Payne Foundation
California Native Plants do well in containers.  Learn how to select the right plants, location, and container for a successful garden in a small space.
Lili Singer wears many garden hats, including horticultural consultant, educator and garden writer (including many years for the Los Angeles Times). She is Director of Special Projects and Adult Education at the Theodore Payne Foundation for Wild Flowers & Native Plants, a non-profit education center, native plant nursery, seed source and bookstore in Sun Valley.
In past lives, Lili worked in retail nurseries, including her parents' business, which specialized in rare succulents. She published and edited two award-winning periodicals, The Southern California Gardener and The Gardener's Companion, and for more than a decade, she hosted "The Garden Show," a live call-in radio program on KCRW-fm. Well-respected for her encyclopedic knowledge of plants, she is a longtime champion of "smart" gardening practices and appropriate plants for our mediterranean climate.
In 1994, Lili received the Mildred E. Mathias Life Achievement Award from the Friends of the Virginia Robinson Gardens in Beverly Hills. In 1996, she was named Horticulturist of the Year by the Southern California Horticultural Society. Though California native plants are a special interest, Lili loves all kinds of flora, as well as birds, insects and other fauna. A Los Angeles native, she lives and gardens in the foothills of La Crescenta.
South Coast Botanic Garden
26300 Crenshaw Blvd., Palos Verdes, CA 90274
---
Point Vicente Native Garden – Community Service Event


When:
Sunday, July 16th | 10am to 12pm (noon)
Sunday, Aug 20th | 10am to 12pm (noon)
Sunday, Sept 17th | 10am to 12pm (noon)
Where:
Point Vicente Interpretive Garden
31501 Palos Verdes Dr. W.
Rancho Palos Verdes, CA
Come join us for a volunteer day in the native plant garden at the Point Vicente Interpretive Center. Get outdoors by helping with our oceanside garden. Participants learn about native California plants and valuable gardening skills. All ages and skill levels are welcome.
Close-toed shoes are required and please bring sun protection and water.
To join us, RSVP to Megan Roy at megan@sccnps.org two days prior the the event if possible.