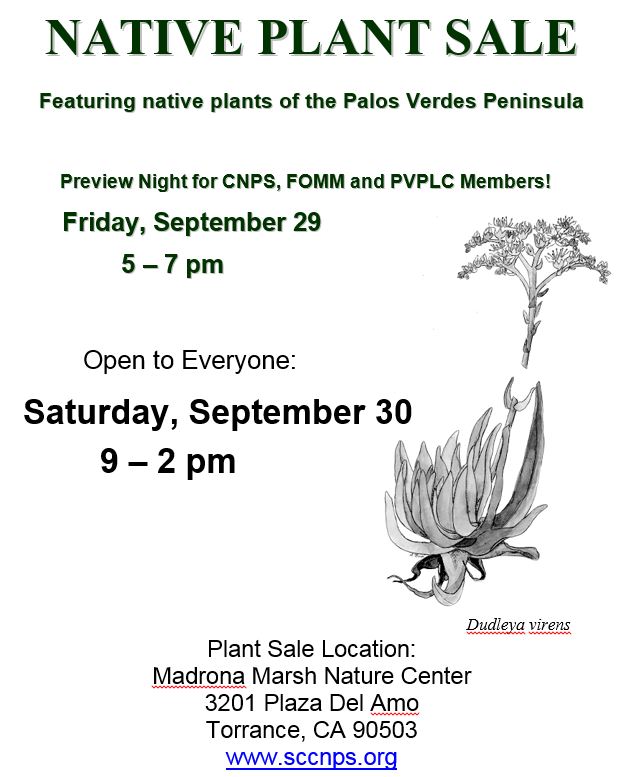 NATIVE PLANT SALE
Preview night for CNPS, FOMM and PVPLC Members
Friday September 29,
5 – 7pm
Open to the Public:
Saturday , September 30
9 – 2pm
Plant Sale Location:
Madrona Marsh Nature Center
3201 Plaza Del Amo
Torrance, CA 90503
We will have hundreds of plants available and experts on hand to help you choose the best plants for your project.  And don't forget, all CNPS, Madrona Marsh and Palos Verdes Peninsula Land Conservancy members get to purchase plants on Friday night, before everyone else. Memberships will be available at the door.  The sale is open to the public on Saturday. See you there!
If you would like to volunteer at the plant sale, please email us at membership@sccnps.org  We are especially needing help on Friday from 9 to noon, Friday evening 7 to 9pm, and Saturday all day.
---
Point Vicente Native Garden – Community Service Event


When:
Sunday, July 16th | 10am to 12pm (noon)
Sunday, Aug 20th | 10am to 12pm (noon)
Sunday, Sept 17th | 10am to 12pm (noon)
Where:
Point Vicente Interpretive Garden
31501 Palos Verdes Dr. W.
Rancho Palos Verdes, CA
Come join us for a volunteer day in the native plant garden at the Point Vicente Interpretive Center. Get outdoors by helping with our oceanside garden. Participants learn about native California plants and valuable gardening skills. All ages and skill levels are welcome.
Close-toed shoes are required and please bring sun protection and water.
To join us, RSVP to Megan Roy at megan@sccnps.org two days prior the the event if possible.